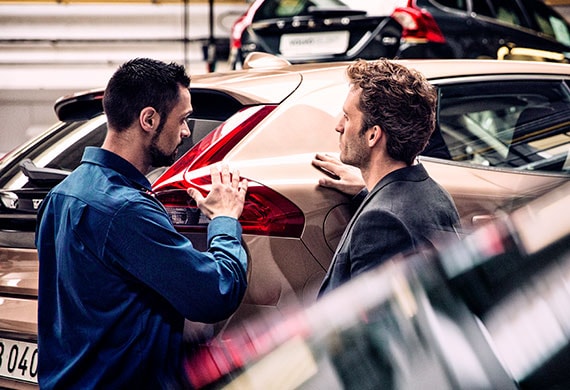 Take Care of Your Volvo Vehicle With Genuine Volvo Parts
Volvo is one of the top automotive brand dealers globally; we offer a wide array of repairs and maintenance warranties to all our customers at our dealership in Savannah. We thrive to provide the best customer service for all of our customers through the entire purchase process. We have a wide range of discounts and deals on new car models and certified pre-owned vehicles that will save you money while driving in excellent condition. Are you in need of various car parts? We have your back covered!
Parts Request
* Indicates a required field
Our Service Center
We have excellent technicians equipped with the latest diagnostic equipment for Volvo automobiles. Our team of highly qualified technicians will repair your vehicle according to strict safety and quality standards in a timely manner. We also offer mobile roadside assistance, quick turnaround services, emergency repairs, and battery replacement.
Volvo Parts
We have a comprehensive range of genuine Volvo parts and accessories. Our parts are specifically engineered to fit your car model perfectly. All the auto parts are tested for quality and durability before being shipped to you. We also provide online shopping facilities for our esteemed customers looking forward to getting their Volvo parts fast with efficient and convenient service.
The Volvo Parts Ordering Process
Customers can easily access our Volvo parts through our dealership's website. You can order all the Volvo parts you need in one place! The whole process is secure and safe and will be done within just a few minutes. Feel free to browse through our website to find the right part for your repair or customization process. Whether you need a cabin air filter or stylish floor mats, we're here to help.
Our Mission in Savannah
We are committed to providing the best car-care services for all our customers. We aim to deliver high-quality products with exceptional customer service that will satisfy you completely. We want every one of our customers to experience total peace of mind while working with our parts center. Our trained service staff, certified technicians, and dedicated parts team are here to provide honest, transparent, and friendly assistance at all times.
The Cost and Quality of Our Products
We provide high-quality products at competitive prices. The Volvo parts we have are cost-effective and match the high standard of our vehicles. We offer a wide range of certified genuine, premium aftermarket, OEM ( original equipment manufacturer) that fall within budget constraints for most customers. Our parts are guaranteed to be fit for the model of your vehicle. We've got you covered!
We know you would like to save money for your vehicle. We offer affordable prices that match our high standard of customer service. Also, there are various ways to get Volvo parts at reduced prices with us, and it can all be done online!
Parts Durability
We offer high-quality Volvo products that are durable and long-lasting. We want to make sure our customers are fully satisfied with their purchases. Our parts are made using genuine parts and materials from the manufacturer. You don't have to worry about them getting damaged or not fitting properly!
Why You Can Trust Our Team at Volvo Cars Savannah
All the auto services we provide in Savannah are done with precision, skill, and accuracy by our team of trained technicians who follow strict safety and quality standards. Our services are available to you at your home, workplace, and in the comfort of your car. With our wide range of products, you will be able to get the exact car parts you need at reasonable prices with us. We work hard every day to give you the best shopping experience possible for Volvo parts. We have a comprehensive set of services that are available to you at any time. We look forward to working with you soon!
Your privacy is important to us.
Volvo Cars Savannah takes your privacy seriously and does not rent or sell your personal information to third parties without your consent. Read our privacy policy.
Hours
Monday

8:00 AM - 5:00 PM

Tuesday

8:00 AM - 5:00 PM

Wednesday

8:00 AM - 5:00 PM

Thursday

8:00 AM - 5:00 PM

Friday

8:00 AM - 5:00 PM

Saturday

Closed

Sunday

Closed