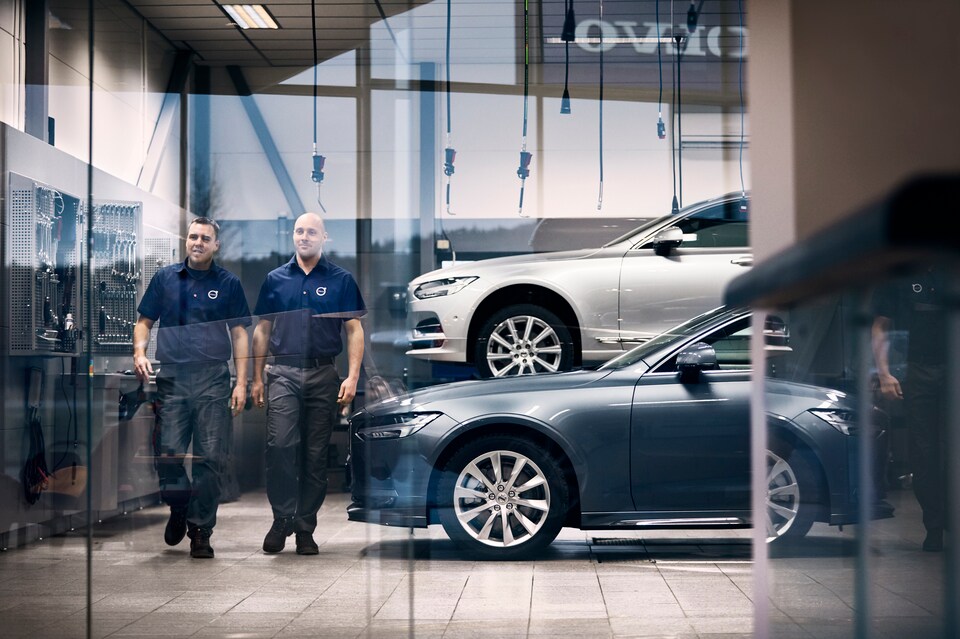 Keep Enjoying Every Adventure Going Forward with the Help of Our Service Center
Here at Volvo Cars Savannah in Savannah, GA we are proud to be one of the leading service centers for car repairs and maintenance services throughout the area. We are proud to off you a state-of-art service center with fully-trained and licensed technicians with enough experience to service your car, truck, or SUV with much more ease. Regardless of the model year, make, or trim level, our technicians have the expertise required to service your car, truck, SUV, or of course, your Volvo. Our technicians are experts in all Volvo models, such as the Volvo XC90, XC60, XC40 and more. If your car needs repair or maintenance, stop at our service center today, and our technicians will help solve the issue.
Why Trust Us with Your Car Repair Services?
Being a top-leading Volvo service centers in the area, we are committed to offering our clients top-notch customer care services and craftmanship. We are ready to easily fix and repair all of your different aspects of your car and furthermore, we be ready to ensure the satisfaction of our customers all of the services we can offer. Our technicians will walk you through the entire process, from when you contact us to when you leave our lot.
If you are not interacting with one of our technicians, you can take time and enjoy our free amenities, such as complimentary Wi-Fi while we service your Volvo machine. Drivers across the entire area can also appreciate our loaner and shuttle services that enhance their convenience. We also offer free car wash services after every service or repair, a trait that makes many drivers walk into our lot for servicing and repair.
Get Top Notch Service and Repair for Every Adventure Around Savannah
Are you searching for a premier and trustworthy Volvo repair and maintenance service center in the area? We have a state-of-art service center equipped with modern-day gadgets and equipment that will help tackle any repair issue. Our technicians have you covered, whether it is a brake pad repair, auto glass repair, windshield repair, or a car AC repair. We are ready to take small or large repairs with more poise and confidence. Contact us today, and we will help you keep your Volvo in top condition and shape.
We also have a wide range of Volvo accessories and parts that can help enhance your car's performance, look, and comfort. Thus, if your vehicle needs any part replacement, you can always count on us to provide you with genuine OEM parts for your Volvo. You can also take advantage of our parts specials available online if you want to save big. Drivers who want to get extra coverage can take our mechanical protection plan that plays a crucial role in preventing costly repairs that may occur in the future. Call us today to schedule a maintenance repair service.
Excellent Volvo Service
Volvo Cars Savannah is your go-to destination if you need any car repair in the Savannah, GA area. We provide our clients with various services such as oil changes, air conditioner repair, fluid flushes, tire rotations and alignments, coolant flush, multi-point inspection, air filter replacement, brake repair, and battery replacement. In terms of client satisfaction, we surpass expectations and always ensure that our clients get quality services. Our goal is to always help the drivers in the area with their Volvo needs and keep their machines in top shape and condition. We offer repair services for all Volvos, including;
Visit Us for your Volvo Repair and Maintenance Services
Our technicians specialize in repairing Volvo cars and SUVs, as well as models from other automakers and tackling everything from engine repair, brake services, AC repair, and others. When you reach out to us, your vehicle will get a free inspection that entails analyzing your Volvo car, SUV, or truck to ensure running smoothly and safely. We will also help you adhere to the car's maintenance schedule, ensuring that it works optimally for years to come.
Whether summer, spring, or winter, we are always there to help you keep your Volvo running and looking great for many years to come! Contact us today to schedule a service appointment.
Your privacy is important to us.
Volvo of Savannah takes your privacy seriously and does not rent or sell your personal information to third parties without your consent. Read our privacy policy.
Service Hours
Monday

8:00 AM - 5:00 PM

Tuesday

8:00 AM - 5:00 PM

Wednesday

8:00 AM - 5:00 PM

Thursday

8:00 AM - 5:00 PM

Friday

8:00 AM - 5:00 PM

Saturday

Closed

Sunday

Closed